Happy Friday everyone!! This week has been a teaser to what is to come for the summer!! I have been sock free all week and it has been wonderful!
The other day I saw on another fellow bloggers post about a
Flip Flop Swap
! Basically, you sign up, are given a partner, and buy a new pair of flip flops for each other! The second I saw that I signed right up! I had participated in a Christmas gift swap and it was so fun to get to know another fellow blogger and exchange a gift!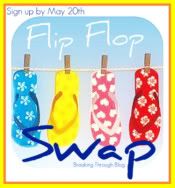 I encourage you to go over to
Lyryn's blog
to sign up...maybe we'll even be partners....:-)
Have a wonderful weekend!
xo