Happy Friday everyone! Truthfully, I wasn't sure what day it was being that this week I have been on a sort of maternity leave! The days are flying by as I go about crossing item after item off of the to-do list!
I've seen a lot throughout the blogisphere about other bloggers posting about some of their favourite beauty buys. While I always like their suggestions, a lot of them are items I can't readily get. At 26, I feel like I am at this in between stage with my beauty regime. I am not ready to fish out hundreds of dollars on wrinkle cream, yet I still want to be conscious of what I do. Truth be told, I hate spending money and so mostly drug store brands are the way that I go. Here are my favourites!
1. Proactive
I've mentioned this before but even at the age of 26, I still have really bad acne. It's a frustrating thing because as I teenager I didn't have acne at all. Now, into adulthood it is something that struggle with. I've tried MANY drugstore brands of facewash/toner/moisturizer and none of them have ever seemed to help. At a suggestion a long time ago from a friend, I started using Proactive and haven't looked back since.
I am a faithful face washer and if someone were to ask me to name only one piece of beauty advice, it would be to WASH YOUR FACE MORNING AND NIGHT…NO EXCUSES!
2. Eye Cream
At the early age of about 22 my mother gifted me with this product to try. My mother has some of the best skin and I really hope that I take after her when I get older. She has tried to get me to use some of her products but they don't agree with my oily skin type. When she gifted me this as a gentle suggestion that I start wrinkle eye cream early, I was a little insulted. Ha ha But, I've used it faithfully and it has become part of my daily and nightly routine. I don't know how much help it actually to my eye wrinkles but I figure it can't hurt!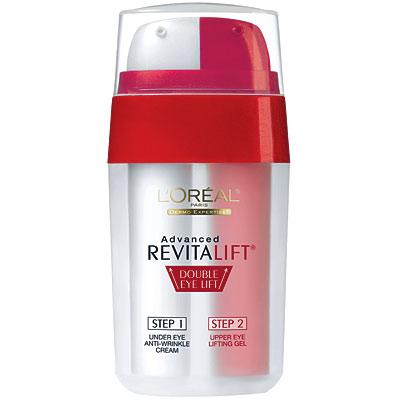 3. Night Cream
In the last year, I have noticed that my Proactive moisturizer hasn't been cutting the mustard! I usually top off my face in the day time with a SPF moisturizer but I would still find my skin a little on the dry side at night. One day when I was shopping for my eye cream, I saw this night cream that was also by L'Oreal. I decided to give it a try and loved the results. It really helps to add extra moisture to my face and gives me a sort of glow that lasts. The best part, it's not too oily and my skin (knock on wood) hasn't had any additional acne problems since adding this to my routine. Both L'Oreal products that I use are drugstore brands that are fairly expensive (about $15 each) but they last a LONG time because you use so little.
4. Covergirl TruBlend Cover Up
I have a hard time sticking to one foundation. I've tried SO many and always end up wanting to switch. I've recently tried BB creams and while I do like them, I don't feel that they give very good coverage. Out of a whim, I tried this new Covergirl product and love it! It's like a mix between a BB cream and a thick foundation. It's thin enough not to look too caked on and thin enough to give a nice even coverage. I'm color 15 and intend on trying their suggested Trublend powder as soon as my old one runs out!
5. Covergirl Lash Blast
If I could only have one product to put on before running out the door, it would be mascara! I find that no matter what make up I wear, I still look naked without mascara. I find a light brush of mascara makes me instantly look more awake and rested! The blacker the mascara, the better! I have pretty normal to long lashes and prefer volume over individual lash detail. Again, I am not much of a make up snob and I especially love trying different kinds of mascara. This Covergirl Lashblast is one that I go back to. I like its coverage and I like how easy it is to remove at the end of the day as well! My go to "quick face" is this mascara, a little blush and chapstick!
Everyone has their preferences of beauty products but most of the time it's through trial and error that we discover what works for us. And I suggest that everyone does just that, take suggestions from other people lightly but have fun and try different products that work for you. Our lives and skin are constantly changing and something that might work for you one year, might not work the next.
What are some of your favourite beauty buys?
Happy Friday!
xo