*Each bumpdate is from the week before. I am currently 30 weeks and 5 days pregnant!
29 weeks as of January 24, 2014
This Week:
This week has felt SLOW and not just in the usual every day life stuff. I've felt slower this week. The honeymoon phase of pregnancy is officially over!
Baby This Week:
Baby is the size of an acorn squash! I actually picked one up at the grocery store this week to check it out! The skin of the baby is really smoothing out this week because it is gaining more weight. The buds of permanent teeth are forming underneath the gums!
Maternity Clothes:
I refuse to buy anything more at this point in my pregnancy. Actually, besides the shopping trip I took in October, I really haven't bought anything in months. Considering I have give or take 11 weeks left, it feels like a waste to spend money on clothes to wear for such a short time.
I have to admit that I am loving being pregnant in the winter. I have a lot of flowy sweaters that I can pair with a basic maternity tee underneath. The above outfit is an example. Maternity skinny jeans (Old Navy), maternity white tee (thyme) and a non-maternity cardigan sweater. So comfy!
Stretch Marks/Weight:
I actually forgot to weight myself again this week! Woops! I guess at this point I just don't really care! ha ha! Well, I do care for curiosity sake but it's definitely something I am not overly obsessive over.
Same stretch marks including the two small ones that are on my belly that are here to stay!
Movement:
My pregnancy app on my phone tells me it is around this time that I should be monitoring kicks to make sure there is enough movement. Baby's movement is certainly not a problem at this point as it is non-stop! The baby really does prefer kicking my right side over the left! I NEVER feel the baby kick on the left side.
Food Cravings/Aversions:
Small meals are key but I am loving food! Had supper on Tuesday night (bacon and egg on English muffins) at 5 PM and then I was starving again at 7:30 PM and had to eat something else! So I grabbed a banana with peanut butter! It's rare that I get hunger pains these days but when I do, look out because there is no stopping me!
Still hating anything tomato related. I can usually have 1 slice of pizza but I always regret it at the end.
Symptoms:
Oh Man! Like I said above, the honeymoon phase is officially over and symptoms are rearing their ugly head! I am feeling slow and tired again. I am also finding I have to walk slower! The pain in my pelvic bone is back and I am pretty sure it might be here to stay!
I have to say I have been super lucky with little to no back pain (I am thanking Yoga for that!) and I haven't had any more leg cramps! *Knock on wood!*
I am getting the occasional headache again but they are pretty manageable.
But wait for it, the newest symptom that I discovered this week that required a quick trip to Wal-Mart to pick up this…
Talk about putting the F – U in "FUN"!
What I Miss:
I miss second trimester energy. Mostly the feeling of going all day without getting super tired!
Labour Signs:
None. But I am hoping the return of the pelvic bone pain means that baby is head down!
Gender:
Team Green! It really is getting SO hard to not know what the baby is. I could wake up one day convinced it's a boy and then change my mind the next day and be convinced it's a girl! I think whatever the baby turns out to be I will be very shocked on D-Day because I haven't had a strong feeling for either gender the whole time. No mother's instinct at all.
Belly Button In or Out:
Ever wonder what the inside of a belly button looks like? Ask me to lift up my shirt! Ha ha!
Wedding Rings On or Off:
On and still loose! 11 more weeks with being "on" hopefully!
What I'm Looking Forward To This Week:
A day in the city early this week to meet a client for lunch at one of my favourite restaurants! But, the best part is that while I am in the city, I am going to do some running around for more nursery stuff! I am picking up fabric for a little project and baskets for under the crib and change table!
I was also able to pick up some post-pregnancy items too! Nursing bras, post partum undies…you know, fun stuff! But, I was glad to cross those few items off my list!
Daddy This Week:
Daddy was a little surprised at the price of stuff but he kept quiet as he knows it is all for a good cause, you!
Wisdom:
Just because your back doesn't hurt doesn't mean you shouldn't pretend it does so that your husband rubs it! Milk it, girl!
Best Moment Of The Week:
That's easy! Was suppose to go for the dreaded Glucose test this week! Got to the hospital bright and early only to be told that the doctor signed the wrong part of my form! They had me wait while they called him for confirmation and a new requisition. Once they got a hold of him they told me that I wasn't actually doing the Glucose test. The doctor had decided it didn't seem needed anymore and to not bother doing it. So they just did regular blood work, said if there was a problem they would call and I got to leave! No yucky orange drink for me, woo hoo!
Getting some baby (pre and post baby) supplies crossed off the list was a huge highlight this week too!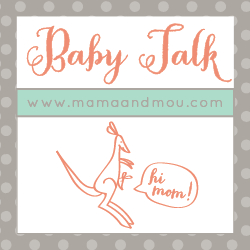 xo