Happy Wednesday everyone. I had a random moment of realization on Monday, it was 1 month until things change completely for Sam and I. Our wonderful routine is going to be thrown upside down when I return to work full time and Sam starts daycare.
I have been really enjoying our time together and now that I have found a daycare that we LOVE, I am feeling less emotional about the transition.
In the last (almost) 11 months Sam and I have developed a nice routine and figured out what works best for us. We both have our preferences but things change almost daily! Here are some of the things that my boy is loving as of lately.
1. It's no surprise that my boy loves to eat! Sometimes I just sit there astonished at the amount of food one little guy can eat! One of Sam's favourite parts of a meal is the end when we hand him a sippy cup of water! He LOVES his water cup and gets so excited to get his hands on it! I purchased a nice set of playtex cups for his stocking and they are great for him to hold onto! After multiple drops on the floor, it is still in great shape and hasn't leaked.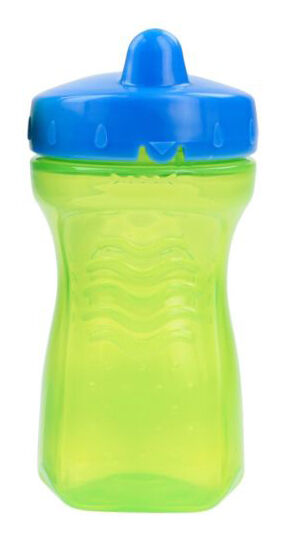 2. For Christmas, Sam received this Stride and Ride elephant. At first, he wasn't a fan but now that he is leaning to stand on his own he loves it! He loves to use it as a walker but mostly he loves to ride it while Ryan and I push him around the kitchen!
3. There is no surprise that Sam LOVES Tucker. He tries to get near him over and over again throughout the day. Recently, Tucker has realized that Sam is someone that will play with him. He brings his toy to Sam to get him to throw it. Sam attempts the toss but I will give him hand. He then proceeds to giggle as Tucker goes to get it and brings it right back! This will keep him entertained for HOURS!
4. When I was pregnant I used an exercise ball to help with my pelvic pain. It has been sitting in our living room unused ever since I had Sam. Recently, Sam has discovered this large ball and thinks it is the greatest thing ever!
5. I know there are a lot of opinions about children and watching TV. In our household, we are TV friendly. All of our play time is in living spaces that have a TV and to be honest, it's a long day without any background noise. Our favourite channel is Treehouse. For the most part, Sam doesn't even watch it because he is too busy playing. But, as soon as Bubble Guppies is on the screen, he stops to watch it! I have actually grown to kind of like the show too!
6. For Christmas, Santa brought Sam the Vtech sit-and-stand learning walker. It is another toy that he didn't care for until he became mobile. His favourite part though? That little purple phone! He INSTANTLY goes for it. In fact, he has another little plastic phone that he loves as well! I guess he see's Ryan and I on our phones and "Monkey see, monkey do".
There are many things that Sam enjoys lately. Every day he discovers something new. I love to sit back and see the concentration on his face when he is examining something for the first time. Or the pride he feels when he figures something out on his own. Every day is a new adventure!
Happy Wednesday!
xo