* Each week is from the week before. I am currently 18 weeks, 5 days!
17 weeks as of November 1, 2013
This Week:
Elections are over! Sad to say that the outcome wasn't as I had hoped. But, it really was a great experience and I am proud to have stood my ground on what I believe in for our community. My only hope is that our new council will realize that the concerns of 1 small community committee does not speak for "the people". That there are many more members of this community who do not belong to this committee (or any committee for that matter) and their concerns matter too!
Baby This Week:
Baby W's skeleton is changing from soft cartilage to bone. Babies lifeline, the placenta is getting thicker and stronger. Baby is now about 5 inches long and 5 ounces, about the size of an onion!
Maternity Clothes:
Yes! Still loving my maternity work pants! They are SO comfy. The above outfit was purchased during my birthday shopping spree from Ryan. The leggings are maternity and feel so much better then my regular ones I have been wearing. The full panel feels so much better then an elastic digging into my midsection. The white tank is maternity but doesn't really fit the best (need a bigger belly!) but is nice and long! The shirt is non-maternity from old navy but gives some room for future growth. I foresee belts, like the one pictured above, will become a staple in my wardrobe.
Stretch Marks/Weight:
Actually, nothing new to report. I forgot to weigh myself this week. I am still applying cocoa butter daily and nothing new in the stretch mark department.
Movement:
I really wish I had something to report in this category but unfortunately I haven't felt a thing. I know it's still considered early but I was just hoping Baby W would be an early achiever! Ha ha! Can't wait to feel the first flutters!
Food Cravings/Aversions:
Still hating anything tomato related and certain meats but more so when I actually cook it myself. I love ice cold water, fruit cups, cereal and cheese!
Symptoms:
Wow..this was the first time I have looked at this category and had to think about what symptoms I have been feeling. What a difference from the first trimester! I guess the only big symptom as of lately is the expanding belly. It's definitely getting harder and more pronounced.
I have been suffering from a cold for the majority of the week and although it always sucks to be sick, there seems to be something about being pregnant that makes it worse. Maybe it's the fact that there is little you can take to relieve the symptoms.
Oh and bursting into UGLY cry while driving down the road listening to "Don't Take The Girl". Sobbing my head off listening to this music brought on some funny looks for people who were passing by me in the fast lane.
What I Miss:
Nyquil? Really I think that is the only big thing. Oh AND I REALLY wanted a glass of wine this past weekend. After the long election day and disappointing results, my parents came over for a drink afterwards. While everyone else enjoyed a glass of wine, I sipped on water.
Labour Signs:
Nothing yet!
Gender:
Team green! I still have no mother's instinct as to what I am having. I hate to guess because really that is all it would be! I have no strong feelings towards which gender it is. Someone came up to me this weekend and said I was having a girl because of how sick I was in the beginning. I think Ryan's parents are leaning towards girl as well.
Belly Button In or Out:
Innie!
Wedding Rings On or Off:
On and especially loose with the colder weather we have been having lately.
What I'm Looking Forward To This Week:
I am looking forward to a somewhat quiet weekend ahead. Not too much is planned and I love the change of pace.
Daddy This Week:
Daddy was really great during elections which I had no doubt. Again, Mommy is so glad to have him support her in everything she does. Just so you know little one, never have any doubt that Daddy will be there for you in everything you do! No matter what it is, he will be there to support and cheer you on. Even if it something that he really doesn't enjoy! It's because Daddy loves you and wants nothing more then to make you happy.
Wisdom:
Being sick while pregnant kind of sucks. Also, I always knew that I couldn't do all-nighters anymore but I learnt that fact even more on Sunday. After only 2 hours of sleep I attempted to go to work Monday morning. I went home for breakfast and fell asleep for 3 hours while still holding my cereal bowl. Woops.
Best Moment Of The Week:
Taking it easy. I spent the week going to bed super early in order to get fight this cold and catch up on some much needed sleep! Literally, bed every night at 7:30! With the added sleep and extra time at home I have also found myself puttering around cleaning house again. Pre-nesting? Maybe. Either way, it's been nice to spend some much needed time at home with nothing planned.
Also, Ryan's Mom (and dad) picked up an Elf On The Shelf for us this weekend! I always LOVED the idea of hiding the little elf every night! The best part is that we got it BEFORE Christmas so Ryan and I are going to practice! We are going to take turns hiding our Elf every night for the other person to find! I'm sure we'll find some creative places!
Linking up with Mama and Mou!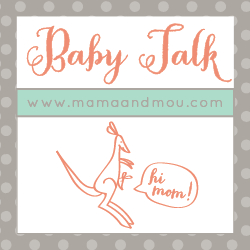 xo